C.: That's a wonderful itinerary we could have! And, what about cabin accommodation? We have never done a cruise and we don't know how the cabins are and which facilities they offer.
T.A: OK, I'm going to explain to you the possibilities you have: the c 141j99b ruise you have chosen offers three types of cabin, but I think that for your special voyage the most suitable is the mini suit. First of all it has a TV-color, a multi channel radio, a telephone, a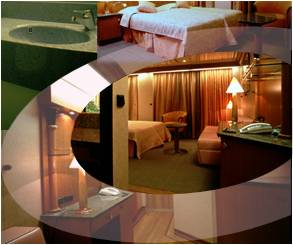 fridge (to drill your drinks) and e verandah, perfect for cocktails as the sun goes down. Moreover there is a personal safe where you can put your jewels, money and personal documents. Fell reassured during a cruise is very important.
C.: And what about toilets and bathroom? We don't have to share, do we?
T.A: No, no, you have your personal bathroom with shower, WC and washbasin. The mini suit offers a plentiful chest of drawers and a wardrobe for your clothes. There is a double bed (sheets and bedspreads are included) and every night you will find a foil wrapped chocolate on your pillow, to make your night tender and pleasant.
C.: It sounds good but I have another question.What about entertainments on board?
T.A: Oh, of course. I'm here specially to answer you. The entertainers will involve you in wonderful shows organized by a specialized staff on board: THE FUN IS SURE!!!
C.: Fantastic! I think that it will be an unforgettable cruise! But before any decision, can we think it over?
T.A: Of course.
C.: Thanks. Goodbye!
T.A: Goodbye!